Be Gluten-free but Don't Buy "Gluten-free"

Be Gluten-free but Don't Buy "Gluten-free"
What do I mean by that?
Gluten-free foods are not problem-free.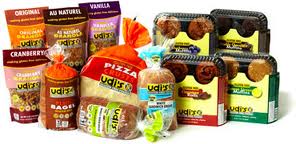 The majority of foods which are targeted to gluten-free eating that you can find in Health Food Stores and grocery stores are not particularly healthy foods. These products that look and aim to taste like wheat-containing breads, bagels, muffins, buns, pizza crust and pastries are still made from processed grains such as cornstarch, brown rice starch, potato starch, or tapioca starch. They are high glycemic and will spike blood sugar, and then insulin levels.
When you simply switch your wheat bread and pastry habit with gluten-free substitutes, you are still loading up on refined carbohydrates. This can lead to weight gain and diabetes just as easily as eating lots of wheat can.
Don't get me wrong – I love Udi's take on baked goods. But they cannot make up a majority of the diet every day.
How can I "Be" Gluten-Free?
The majority of foods found around the perimeter of a grocery store are fresh. If you focus on the produce and meat sections, you will find a plethora of gluten-free foods. Gluten comes from certain grains, so these naturally contain no gluten because they are not grains or are not processed to include grains.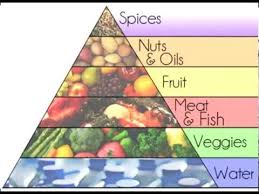 Simply put, all these things which you have been eating all along are gluten-free:
Fruit
Vegetables
Nuts and seeds
Meat
Poultry
Fish
Beans, legumes
Herbs and spices
So, don't be fooled when you see a gluten-free label on a can of fruit or a can of beans, they never had any gluten to begin with. But that does not inherently make them healthy either.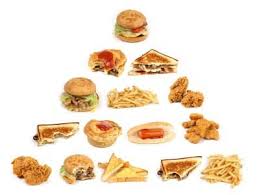 What happens is that the chicken or fish gets breaded and fried, the fruit is made into a pie, the meatloaf has breadcrumbs in it, the nuts and seeds are combined with pretzels in a trail mix, and what were innocently gluten-free foods suddenly are not. But that is not the biggest obstacle to changing to gluten-free.
How many days – or hours – has it been since you ate toast, pizza, pasta, a sandwich, a wrap, a burrito, had croutons on a salad, or a bag of pretzels? Gluten-containing foods are everywhere, especially if you go to a restaurant or have fast food. It is our cultural norm.
It is a matter of changing your outlook on what you will eat to include more vegetables and nuts and seeds. Think more like our primitive ancestors who had to hunt and gather their food.
What about fiber?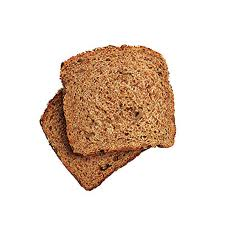 I get that question all the time. We are exhorted to eat complex carbohydrates from whole grains in order to get our daily fiber. The truth is that if you replace those complex carbohydrates from wheat containing whole-grain cereals and breads with vegetables and raw nuts, your fiber intake actually increases. Look at this.
Two slices of whole wheat bread contain about 138 calories and 3.9 grams of fiber. If you replace that with about 24 raw nuts such as almonds or walnuts to give you the same number of calories, your fiber is the same or more! Same goes if you replace the two slices of whole wheat bread with the same number of calories from a salad with mixed greens, carrots and peppers. Wow – instant fiber match! And that is how humans got their fiber in primitive times. We are not much different in our inner workings.
Cooking with Real Foods that are Gluten-free
If you are looking for ideas and cookbooks, I recommend:
Paleo and Primal Diet cookbooks and blogs, such as Mark Sisson's
Select raw food cookbooks and blogs
Wheat Belly by Dr. William Davis
The Gabriel Method website and resources
Dehydrator recipes, especially for veggie and seed "crackers"
Idea #1 Veggies as your starch
This is a great idea cooked up by the low-carb and raw communities. Instead of noodles or rice, use your imagination with:
cooked spaghetti squash scooped out of the shell
zucchini sliced on a mandolin for flat noodles, julienne for round noodles
grated cauliflower, steamed
grated turnips, or other root vegetables (think sweet potatoes, etc), steamed or stir-fried
bean sprouts
stuff a mushroom or a pepper: red, green, or chili
arame (a seaweed, acquired taste)
nori sheets for wrapping or a crust for savory dishes
Idea #2 Dehydrator Recipes
Check raw food cookbooks and blogs for ideas on how to make crisp treats from anything other than grains. Here are two to start with – one sweet and one savory.
Festive Banana Sesame Crisps
3 medium ripe bananas
1 Tbs nut or seed oil
1 cup raw sesame seeds
½ tsp cinnamon
¼ tsp nutmeg
¼ tsp cloves
grated rind from one organic lemon
Puree bananas, oil and spices. Fold in sesame seeds. Spread on sheets and dehydrate or dry in lowest oven 24 hours. Break in bite sized pieces.
---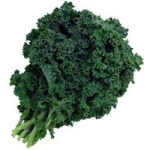 Katie's Kale Chips (from The Plan)
1 bunch kale, chopped (dried off)
1 Tbs olive oil
pinch sea salt
black pepper
fresh lime juice
Coat kale with oil and seasonings. Add lime juice. Spread on baking sheet. Bake 120 degrees 40 to 60 minutes.
Is there any way to bake healthy gluten-free?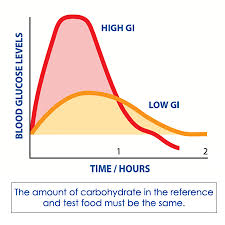 To answer that question, we need to discuss something called the glycemic index. Nutritionists came up with this as a measure of how much blood sugar levels increase in the 90 to 120 minutes after a food is eaten. High glycemic foods will spike insulin, leading to weight gain.
What makes a food high glycemic is its sugar content or ability to be converted to sugar. Processing food where it is broken into small particles such as grinding grain into flour or puffing it will make it more easily converted to sugar, and higher glycemic. On the other hand, foods with high fat, protein and fiber content tend to be low glycemic, because fiber will slow down absorption and conversion to sugar and fat and protein will do the same and is not converted to sugar directly.
So, what about whole wheat? It has fiber. Yes, read more about that in my article Lose Wheat, Lose Weight. The particular carbohydrate of wheat, amylopectin A, is rapidly converted to sugar, overtaking the moderating influences of fiber.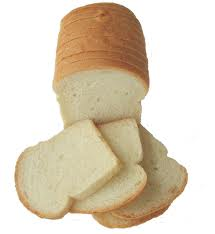 The glycemic index standard is white bread. What spikes blood sugar more rapidly is glucose and maltose sugars and puffed grains. But whole wheat is up there just below white bread. By the way, so is oat bran, white rice and instant mashed potatoes. And so are the usual ingredients in gluten-free baked goods: cornstarch, rice starch, potato starch, and tapioca starch.
But modern day cooks have gotten creative. Ingredients can be substituted in cooking and baking which are not high glycemic, and produce a fairly delicious baked goods or breading. And there raw chefs creating delicious treats with nuts and seeds and fruits which, in my opinion, are superior when you are looking for a "healthy" dessert.
In Praise of Almonds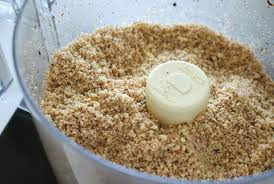 Enter the almond as a versatile substitute for flour, if used creatively. You can grind your own, but be careful not to make it into almond butter. For convenience, you can get almond meal or flour from your health food store or health food section of the grocery store or even Trader Joe's.
Remember the fiber equivalency of the almond for whole wheat bread? Your gluten-free product will have fiber! Almonds also contain some oil and protein, so the absorption and conversion to blood sugar is slowed down, even though it is ground.
---
This reminds me of a favorite cookie recipe: Almond Cookies (makes 5 dozen small)
3/8 cup butter
1 cup sugar: xylitol, brown or white sugar (or 2/3 cup honey – watch it, browns fast)
1 egg
2 tsp vanilla extract
1 # almond meal
Cream butter with sugar. Beat in egg and vanilla extract. Mix in almond meal. Spoon 1 rounded teaspoon onto cookie sheets. Bake 350 degrees 12 minutes, turn off oven to brown a little longer.
---
Also, check out the recipe for Walnut Apple Mini-Muffins that I made for guests at my open house "Celebrate the Fullness of Life." The recipe is at the end of the blog.
If you happen to be allergic to almonds, try replacing them with ground walnuts or pecans. If you are allergic or cannot have any nuts, consider using ground chia seeds, pumpkin seeds, sesame seeds or sunflower seeds or garbanzo bean flour.
Low Glycemic Strategies
Besides using almond meal, there are a few other strategies which will help you keep your blood sugar down and away from gluten.
Non-gluten grains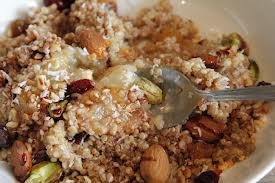 Among the grains that do not have gluten, I only recommend the whole forms of:
Quinoa
Amaranth
Buckwheat
Also, eat in limited amounts and mixed with fats (such as nuts or butter) and berries or veggies. I make quinoa porridge and buckwheat stuffing,  for example.
The Incredible Egg
You know that crepes are made with a lot of eggs, but what if you left out the flour completely? Yes, why not use your crepe pan with just eggs! It does the trick, they are easy to roll, and are very satisfying to eat!
Or make a pancake without the flour? It can be done if you separate the eggs, as in this recipe from Mark Sisson's Primal Blueprint Quick and Easy Meals.
Berry Pancake
Preheat oven to 400 degrees. Heat butter in a 10 inch oven-proof skillet, over medium heat. Add the berries and simmer for 3 – 6 minutes so the liquid thickens.
While the berries simmer, use an electric mixer to beat the egg whites until stiff peaks form. In a separate bowl, whisk the egg yolks for 1 – 2 minutes by hand with the vanilla and cinnamon. Gently fold the yolks into the egg whites.
With the heat under the fruit still at medium, spread the egg batter evenly on top of the fruit. Cook 2 minutes without touching, then transfer the pan to the oven. Bake for 10 – 12 minutes until the batter is puffed up slightly and lightly browned. Remove the pan from the oven. Place a plate over the pan and flip the pan to invert the soufflé so the fruit is faced up. Eat warm or at room temperature.
---
Also, when you bake with a lot of eggs, they tend to counteract the high glycemic properties of refined fours, even if they are gluten-free. I love this recipe for popovers from Bette Hagman, a pioneer of gluten-free cookbooks:
Gluten-Free Popovers
1 cup water
½ cup shortening (coconut oil)
1/3 cup potato starch flour
2/3 cup rice flour
½ tsp sea salt
4 eggs
Preheat oven to 450 degrees. In a saucepan, bring water and coconut oil to a rapid boil. Mix dry ingredients together, then add at once. Stir until mixture forms a ball. Cool slightly. Put in the bowl of an electric mixer. Add eggs one at a time, beating well after each addition. Drop by tablespoons into greased muffin tins, making 15.
Bake 20 minutes at 450 degrees, then reduce heat to 350 degrees for 20 minutes.
---
 Raw Treats
It is amazing what you can do with nuts and dried fruits in making sweet treats. My go-to is cheesecake because it is inherently full of satisfying fat and so lower in the glycemic index. And, if you must have chocolate, give a go to these fruit-nut chocolate balls.
The Rawtarian Raw Cheesecake Recipe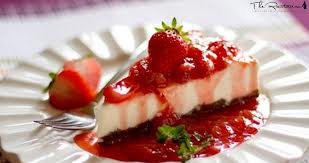 Crust ingredients:
1 1/2 cups macadamia nuts (or a combination of walnuts and macadamia nuts)
1/2 cup dates
1/4 cup dried, unsweetened coconut
1 pinch sea salt
White cheesecake filling ingredients:
3 cups cashews
3/4 cup lemon juice
3/4 cup agave or honey
3/4 cup coconut oil
1 tablespoon vanilla
Up to a 1/4 cup of water, if necessary to facilitate blending
Fruit topping ingredients:
2 cups frozen strawberries
1/2 cup dates
Directions How to make this raw cheesecake recipe…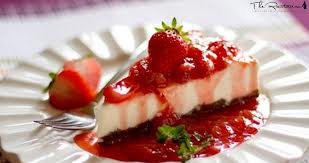 1. Throw the macadamia nuts, salt and dates into your food processor. (Don't add the coconut!!) Process nuts and dates until well processed but still airy.
2. Next, get our your cheesecake pan (or just a basic glass brownie pan if you're like me and don't have fancy cookware) and sprinkle the coconut on the bottom as your very first layer. The point of doing this is to make it so it's easier to remove the cheesecake and the coconut stops the crust from sticking to the bottom of the pan. Then press the macadamia nuts and date mixture down into the pan to form the crust.
3. Throw all cream-cheese filling ingredients into your high-speed blender and blend! Add as little water as necessary to facilitate blending. (Try to add as little water as possible.) Pour mixture on top of crust.
4. Place the above in freezer for an hour or so (so that it will firm up).
5. Meanwhile, throw your strawberries and dates in your high-speed blender. Blend until nice and smooth. Pour this mixture on top of the crust/cream cheese, which was just in the freezer for about an hour. Place the raw cheesecake recipe back in freezer. Freeze until this raw cheesecake recipe reaches the desired consistency (5 hours or so!).
6. Defrost this raw cheesecake recipe for about a half-hour before eating (or just slice from freezer and enjoy this delicious raw cheesecake)!
---
Fudge Balls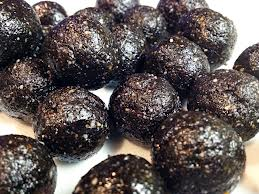 Finely grind in food mill:
5 tsp sunflower seeds
5 tsp pumpkin seeds
Mix with:
2 tsp shredded coconut
5 tsp carob or cocoa powder
½ cup chopped pecans
½ cup chopped raisins
½ cup chopped dates
2 – 3 tsp water
Make ¾ inch balls and roll in coconut. Easiest to work if refrigerated. Makes about 30.
---
Please comment below about your experience being gluten-free without buying "gluten-free"!
---
WANT TO USE THIS ARTICLE IN YOUR NEWSLETTER OR WEB SITE?
You can, as long as you include this complete blurb with it: "Naturopathic Physician Dr. Cheryl Kasdorf is a doctor who listens and has answers with a natural approach that works. She is known as the go-to person to get back your get-up-and-go when it is gone, gone, gone. Get your FREE gift "Dr. Kasdorf's Health Secrets for Feeling & Looking Great" at drcherylkasdorf.com
---