Drink Water

If you go without any water, you'll die in a few days. Clearly, water is something we need to function. You don't have to look far to see the (contradictory) advice of how much and what kind of water to drink.
Let's unravel this to come to a personal guideline.
What is dehydration?

You have heard the recommendation to drink eight 8-ounce glasses of water a day. How many of us do that? (And, should we?)
Well, if you're reading this, chances are you are motivated to healthy practices, and that may include drinking at least that or "half your body weight in water in ounces." Is that realistic? Anyway, when we get busy, we may be distracted from or insensitive to thirst signals, and not drink water.
Major signs of dehydration are
thirst
dry skin
dark urine
fatigue
Commonly overlooked symptoms of chronic dehydration include:
heartburn, constipation, other digestive disturbances
frequent urinary tract infections
premature aging – wrinkles, cracked or flaky skin
high blood pressure
headaches
Unless we are conscious of how much water we are drinking and establish habits to regularly keep hydrated, chronic dehydration can negatively affect our energy, appearance, vitality and immunity.
How much is enough?
Are you thirsty right now? It turns out that your thirst signal, when given attention, is a reliable guide to drinking water. Water needs vary from person to person and throughout the day in a single person.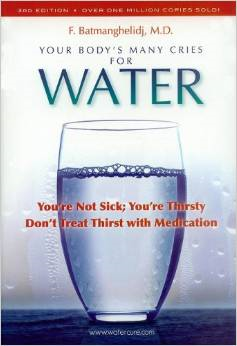 Contrary to the advice given by Dr. Batmanghelidj in Your Body's Many Cars for Water, you can trust your thirst mechanism. Your body has a regulatory system called thirst that lets you know when you have lost 1 – 2 % of total body water. If you pay attention and drink when you are thirsty, you can maintain your hydration.
The question remains how much.
After 10 months of research of medical literature, Dr. Heinz Valtin, MD, published the definitive paper on the subject of 8 – 8 ounce glasses of water a day in the American Journal of Physiology in 2002. It was in his interest to find out, with a background in writing textbooks on kidney function and teaching physiology at Dartmouth Medical School. He found no evidence for that recommendation.
But that does not mean we don't need it. We do need a steady stream of water to facilitate metabolic processes, and it can come from many sources. The water content of food can count towards or against our water needs, so we need to take that into consideration. For example, we might need to drink less water when eating lots of fruits and vegetables and more if we are eating meat, cereal and salty foods.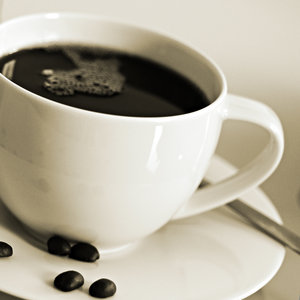 And beverages such as coffee, soda and beer are actually dehydrating. Caffeinated, sweetened, and alcoholic beverages demand lots of water to process in the body, leaving a water deficit even though they are fluids. In addition, the purines in coffee, chocolate, and black tea must be diluted and flushed from the body. Caffeine from any source acts as a diuretic, increasing the rate and amount of urine production, eliminating water from the body unnaturally. Caffeinated beverages wind up as urine and do not make it into the cell.
So don't be surprised if you follow your thirst and find it varies according to activity level, weather conditions, food and beverage intake, and salt intake. Your internal regulating systems strive for balance, so will let you know your needs. You can't put a single number on it.
I drink a lot of water, so I pee a lot. Isn't that normal?
Normally, we just pee out excess water. However, there are risks of drinking too much water. We can strain the kidneys, lower our metabolism  and flush out needed minerals from excess water. Never force yourself to drink past a feeling of fullness.
Certain athletes are at risk for a life-threatening condition called acute hyponatremia, an imbalance in water and electrolytes.
In fact, anyone can get in trouble if they drink excess plain water, without the needed electrolytes (meaning minerals.) It is the electrolytes that keep water balance between the cells and the extra-cellular fluids. Without that, cells cannot function efficiently. You can drink a lot of water (and pee it out) and the water may not be getting inside your cells, leading to cellular dehydration and all the problems previously mentioned.
How can I get water into my cells?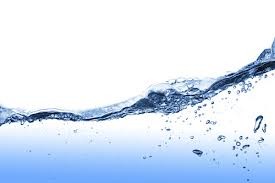 The water you drink and the water content of foods moves from the digestive tract into the bloodstream. As blood is circulated through the body, it delivers water to the extracellular tissues, the space around your cells. Your vitality depends on how well you can then get that water into the cell.
Minerals known as electrolytes are the magic helpers to get water into the cells. These minerals also activate enzymes, which are the basis of every biological process in the body, giving it vitality.
Cellular membranes regulate the intake and outflow of water and nutrients. The essential fatty acid makeup of the cellular membrane greatly affects its ability to do that. It is essential to get enough omega-3 fatty acids for membrane fluidity and just enough cholesterol for membrane stability.
One of the best ways to ensure that water gets into you cells is to eat fruits and vegetables, as they contain both water and minerals. And in fact, eating vegetables with fats such as butter or coconut oil helps to absorb the minerals as well as provide stabilizing fats for your cellular membranes. Then eating wild fish with high omega-3 fatty acid content like salmon, sardines, and mackerel will help keep fluid your cellular membranes.
Is there a way to help get plain water into my cells?
Yes. The surface tension of the water has a lot to do with how well it is absorbed. Have you seen water bead up on a slick surface? That beading, the appearance of a rounded surface, shows the surface tension of water. We use soap to cut the surface tension when washing. But there is another way.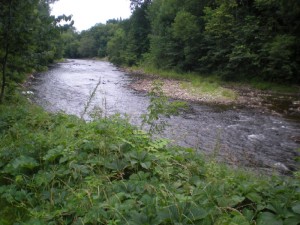 Water flowing in nature, as down a mountain stream, has less surface tension than that coming from your city water supply. Water cleans itself in nature when it flows. Flowing water found in nature is "structured" meaning it has a vitality, neutral pH (acid/alkaline balance), and is free of memory. The structuring refers to the shape of the molecules themselves, which produce a low surface tension when gathered together.
You can get this same "structured" water by letting it tumble through a Natural Action Water unit, designed with precise geometries to flow the water in a double helix pattern. This mimics what happens in nature so precisely that the water coming out of a Natural Action Water Unit has vitality, a neutral pH, and is free of memory just like in nature. As a result, it also has a surface tension low enough to easily be absorbed through the cellular membrane into your cells.

This may sound like science mumbo-jumbo, so I look to experience. Everyone who has tasted the water from a Natural Action Water Unit in my office, especially comparing it to ordinary water, says that it is smoother, softer, and makes them feel good.
I, myself, find that I naturally want to drink the water flowed through a Natural Action Water unit because I feel it instantly satisfy my thirst. It is what my body is asking for.
You are welcome to visit my office to taste structured water through the Natural Action Water unit, and see for yourself.
Call 928-649-9234 set up at time with me. And please leave a comment below if you have tasted it!
---
WANT TO USE THIS ARTICLE IN YOUR NEWSLETTER OR WEB SITE? You can, as long as you include this complete blurb with it: "Naturopathic Physician Dr. Cheryl Kasdorf is a doctor who listens and has answers with a natural approach that works. She is known as the go-to person to get back your get-up-and-go when it is gone, gone, gone. Get your FREE gift "Dr. Kasdorf's Health Secrets for Feeling & Looking Great" at drcherylkasdorf.com
---