Instant Herbal Beverage with Dandelion
How to start the day?
A cuppa DandyBlend!
That's how Dr. Cheryl does it!
Read my story here.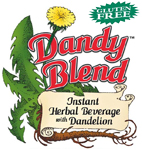 full-bodied richness

no caffeine

no acidity

no bitterness

gluten-free
DandyBlend Benefits
Caffeine free, no acidity, not bitter.
It is the only herbal coffee substitute in the US that features both the health benefits of dandelion root and the rich, full-bodied flavor, smoothness and texture of real coffee. Many say that, because it lacks bitterness and acidity, it actually tastes better than coffee.
Extracts of roasted roots of dandelion, chicory and beets, and the grains of barley and rye.
Nothing else is added. While we make no claims for Dandy Blend other than that it is a delicious herbal beverage with the taste, body, and texture of coffee, the ingredients – dandelion, chicory and beet roots, and barley and rye grains – are all health-promoting foods respected throughout the world.
Gluten-free.
Gluten, which is comprised of proteins that are not water-soluble, is left behind in the grounds to be composted during the extracting process, leaving Dandy Blend gluten-free.
Naturally sweet from the fructose that occurs naturally in the roots of dandelion and chicory.
Many people require no additional sweeteners.
Contains over 50 trace minerals in each cup,
most of which the body uses to help synthesize compounds needed in metabolism.
No headaches or other withdrawal symptoms when switching from coffee to Dandy Blend.
It is like switching from one brand of coffee to another.
Costs as little as 7 cents a cup
– less, on a per cup basis, than coffee, or instant coffee alternatives that do not contain dandelion. To keep Dandy Blend affordable for everyone who already drinks coffee, we keep the price down as low as possible by distributing it directly.
Dandelion root is what makes Dandy Blend unique and so much better that it stands out from all other options available. It is the only instant coffee alternative in theUnited States that contains dandelion root. To Americans, dandelion may be considered a weed, but to people all over the world it is a valued vegetable and highly respected herbal medicine. It is one of the top six herbs in the Chinese medicine chest.
Use your imagination . . .
Dandy Blend can be made into any kind of beverage like you drink coffee: hot, iced, latte, mocha, espresso, even as a flavoring in desserts. You can travel with the single servings, and just add hot or cold water. Look for the recipes on the Dandy Blend bags.
Dandy Blend is so versatile that, depending on how much powder you use, it can be everything from a pleasant, nutty roasted tea to a rich, strong expresso or cappuchino. It is also the easiest way to get the benefits of dandelion root into your diet. Add one spoonful in a cup of hot or cold liquid, stir, and it is ready to drink. It makes a particularly good iced coffee for use in warm weather.
1 level tsp per 8 oz. = a tea-like beverage
1 rounded tsp in 8 oz = a rich, full-bodied coffee. 
1 heaping tsp to 1 Tbsp for an espresso-strength beverage.
See some recipes here. And, if you really like to experiment in the kitchen, download the ecookbook "The Many Faces of DandyBlend" by Peter A. Gail, courtesy of the DandyBlend website here. Delight yourself and your family with Dandy Pumpernickel Bread, Mocha Mock Mousse, Dandy Cola, Dandy Shake, Dandy Malt, and more!
Using Dandy Blend to Get Off Coffee
The key to switching from coffee to Dandy Blend is to get the same concentration as the taste of the coffee you usually drink. Dandy Blend has a full, rich-bodied taste that you have become familiar with drinking coffee. Because Dandy Blend is actually good for you, and can give you some energy, you can have a seamless transition. The folks at Dandy Blend give their recommendations here.
How Dandy Blend Came to Be….
Dandy Blend is adapted from an herbal formula that originated in Austria some 200 years ago. It ended up in Canada, where Dr. Peter Gail, a Ph.D. Ethnobotanist from Cleveland Ohio, discovered it, in 1988, being sold in an obscure little herb shop tucked away on a back street inToronto's Kensington Market. He brought it to the States and introduced it to his medical herbalist friends at their annual conferences. They fell in love with it, and began recommending it to their patients.
By 1995, demand had grown so great that his Canadian supplier could not satisfy it. He was granted private labeling rights and given the recipe. Upon reviewing the formula, he discovered that the blend needed more dandelion to make it optimally therapeutic. He also discovered that the flavor could be improved by changing the roasting regimen, and what we now know as Dandy Blend was born.
Now, at the end of 2010, Dandy Blend is available from almost 1000 retailers across theUnited States, mostly in places where the staff takes personal interest in introducing it to their customers.
Dandy Blend is produced for us by Biogran GmbH in Poland, the largest manufacturer of cereal beverages in the world. They use no GMO ingredients and produce Dandy Blend on a line that is used for both organic and kosher beverages.  They maintain a quality management system that fulfills ISO 9001:2008 standards.
Dandy Blend Available in the Office of Dr. Cheryl Kasdorf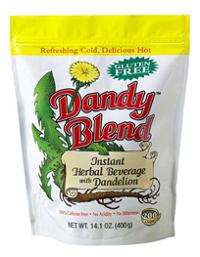 14.1 oz 
200 servings    
$19.95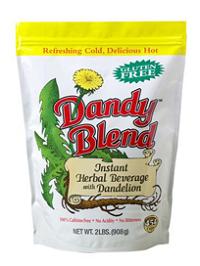 32 oz
454 servings
$32.95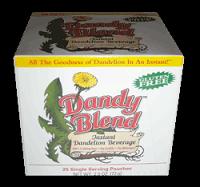 25 pack
single servings      
$12.98
---
WANT TO USE THIS ARTICLE IN YOUR NEWSLETTER OR WEB SITE?
You can, as long as you include this complete blurb with it: "Naturopathic Physician Dr. Cheryl Kasdorf is a doctor who listens and has answers with a natural approach that works. She is known as the go-to person to get back your get-up-and-go when it is gone, gone, gone. Get your FREE gift "Dr. Kasdorf's Health Secrets for Feeling & Looking Great" at drcherylkasdorf.com
---