Your Own Halloween Treats

Your Own Halloween Treats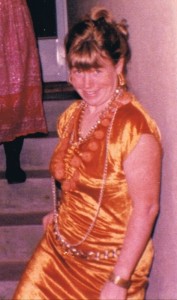 I love Halloween and dressing up in costumes and having fun. Here I am years ago as the 24 carrot woman. Do you see my necklace made of carrot slices? Of course, it is a play on the idea of 24 carat gold. Fun?
What is your fantasy dress-up or costume this year?
Halloween is a time to be watchful, however, because treats freely given can actually be tricks if you are wishing to avoid sugar, gluten, corn syrup and GMOs.
Last year I wrote a blog about which candies to avoid, and which are safe. Please reference it here if you are going out shopping for food treats.
Non-Food Treats
There is also the Teal Pumpkin Project that promotes non-food treats for Halloween. A stroll down the aisles of a dollar store or the party supply section of a big chain store will give you lots of ideas for non-food Halloween treats.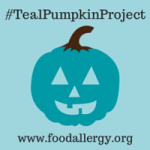 "This campaign encourages people to raise awareness of food allergies by providing non-food treats for trick-or-treaters and painting a pumpkin teal – the color of food allergy awareness – to place in front of their house along with a free printable sign from FARE to indicate they have non-food treats available."
Make your own Treats
I love to be in the kitchen and play with healthier ingredients in making treats. This year I am posting some of my favorite recipes for sweets or fun foods that you might like to make for Halloween.
The first is a twist on my mother's recipe for deviled eggs. Add a drop of red food coloring and the yolk filling becomes orange like a pumpkin. Pipe it back in the egg white to look like a pumpkin, dress it up with a stem or maybe a jack-o-lantern face, and there you have it – a unique Halloween treat that is not sweet.
I have also seen ideas of putting avocado in the hard boiled egg whites, putting an olive in the center, and making them look like monster eyes.
The rest are sweets – but not too sweet – and from natural ingredients. Have a go at it and tell me your favorite!
Pumpkinized Deviled Eggs
6 hard cooked eggs
2 tsp lemon juice
¾ tsp salad mustard
1 tsp Worcestershire sauce
½ tsp salt
1/8 tsp pepper
2 Tablespoons mayonnaise
Red food coloring – enough to make it look pumpkin orange
Cut eggs in half, remove yolks, and press through a sieve. Combine yolks with remaining ingredients, beating until smooth. Refill whites. Decorate as desired.
Seed Brittle
1 cup raw pumpkin seeds
¾ cup raw sunflower seeds
¼ cup raw sesame seeds
1 Tablespoon pumpkin pie spice
½ teaspoon sea salt
1/3 cup maple syrup (Grade B is best)
1 teaspoon vanilla extract
Preheat oven to 325°F. Line a baking sheet with parchment paper.
In a large bowl, combine the seeds, spice and salt, then add the maple syrup and vanilla and mix until well coated.
Flatten on the baking sheet in an even layer about ⅛ inch thick. Press out the middle making it slightly thinner than the edges to help prevent the outside edges from burning.
Bake for about 30 minutes or until golden brown. Cool completely to crisped up, then break it into pieces.
Truffle
¾ cup almond meal
¾ cup almond butter
7 whole dates, pitted and softened
¼ cup cocoa powder
Dark chocolate chips
Combine all. Roll into balls.
Apricot Pecan Sweets
1 cup dried apricots, steamed 10 minutes, then finely chopped
1 cup finely chopped pecans
2 Tablespoons orange juice
Combine all. Roll into balls with 1 Tablespoon of mixture.
Fudge Balls
5 tsp sunflower seeds
5 tsp pumpkin seeds
Grind finely in a food mill.
5 tsp cocoa powder
½ cup chopped pecans
½ cup chopped raisins
½ cup chopped dates
2 – 3 Tablespoons water
Mix all together. Make ¾ inch balls and roll in fine coconut. It is easiest to work with when refrigerated. Makes about 30.
Cracker Jack and Jill
2 quarts popped (organic non-GMO) popcorn
1/2 cup honey
1 cup peanuts or almonds or nuts of your choice
Place honey in a saucepan and heat to simmer. Place nuts and popped corn in a bowl and stir the honey over it evenly. Spread on an oiled baking sheet and bake 350 degrees for 10 minutes, until no longer gooey. You may also want to make this into balls.
Please comment below about Halloween and what treats are your favorites!
---
WANT TO USE THIS ARTICLE IN YOUR NEWSLETTER OR WEB SITE?
You can, as long as you include this complete blurb with it: "Naturopathic Physician Dr. Cheryl Kasdorf is a doctor who listens and has answers with a natural approach that works. She is known as the go-to person to get back your get-up-and-go when it is gone, gone, gone. Get your FREE gift "Dr. Kasdorf's Health Secrets for Feeling & Looking Great" at drcherylkasdorf.com
---