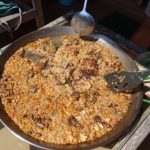 I tasted authentic Spanish Paella today.
My friend Ananda and I shopped for the ingredients and his friend Diamas cooked Paella for a whole group of us. It is important to cook everything in a big Paella pan over a gas stove, in this case it was butane.
Spreading olive oil over the whole bottom of the pan, Diamas first sauteed two cloves of garlic and a dried pimento pepper to flavor the oil. Then he added the ingredients in this order: green onions, raw artichoke hearts, cauliflower, cod, tomato puree, rice, and fish broth, letting each one brown in the oil before adding the broth. Then in simmers over high heat, melding all the flavors. Delicious!​