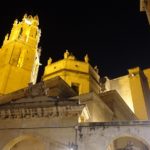 I continue to be struck with the contrast between my life in Cottonwood and the way things happen in this region of Spain.
Many buildings are old. In the old cities the streets are narrow and parking is mostly underground. All the plazas are lit at night.
The colors are characteristically what I think of as Mediterranean.
Then there are the beaches.
| | |
| --- | --- |
| Skyline of Barcelona towards the Mediterranean | Tourist shops in Cambrills |
| Streets of Old Tarragona | Walkway with entrances to shops in Tarragona |
| Archway to the beach in Altafoolla | Returning from the beach in Altafoolla |
| Trompe l'oeil painting in Tarragona | Close up of painting on the buildings in Tarragona |
| Dining at 11 pm in a plaza in Reus | Dining companions |
| Castle by the sea | Selfies at the castle |
| Entering Old Altafoolla | Buildings in Old Altafoolla |
| | |
| Amazing colors in Altafoolla | For Sale in Tarragona |
| Shrine in Altafoolla | Detail of architecture in Altafoola |
| Church in Mont-Ral | Restaurant in Mont-Ral |