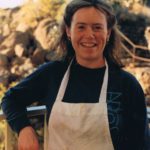 2016 Holiday Treats
Even before I was running the Bakery at Arcosanti, I loved to experiment with baking recipes. Now I avoid fad ingredients, but still promote gluten-free. This post will include a converted recipe for Pecan Puffs from when I worked at the Bakery at Arcosanti as well as others.
Pecan Puffs were the perfect vegan cookie. Without eggs, the texture is more like shortbread. Sweetened with honey, they are not overly sweet. Chock full of nuts, these cookies have richness and plant protein.
As a professional bakery recipe, the measurements were in weight and a big quantity. I have cut down this recipe to be appropriate to make at home. Enjoy! (I do.)
Pecan Puffs
8 oz (1/2 #) butter, softened
1/4 cup honey
1 Tbs vanilla extract
1 cup walnuts, chopped medium-fine
2 cups pecans, chopped medium-fine
2 cups gluten-free flour mix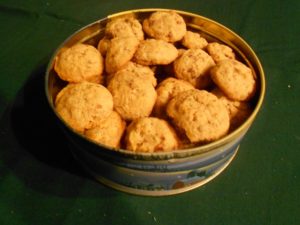 Cream butter. Add honey and continue to beat. Add vanilla and mix in.
Add both nuts and mix thoroughly. Mix in flour.
Use a small ice cream scoop to form half-rounds. Place on parchment-lined cookie sheet.
Bake 325 degrees 12 – 14 minutes, until lightly browned.
Makes about 60 small cookies.
---
I used to bake for Sunday brunch and the Lemon Sesame bread was a favorite. I converted it to gluten-free just by substituting a gluten-free flour mix like Pamela's. I like to make it into muffins for less messy portions.
Lemon Sesame Muffins
rind of 2 lemons, grated
juice of 1 lemon
1/4 cup coconut oil / melted butter
1/2 cup honey
2 eggs
1/2 cup sesame seeds
1 1/2 cups gluten-free flour mix
2 tsp baking powder
TOPPING: juice of 1 lemon
3 Tbs honey
Grate the lemon rinds, then juice them.
Beat oil and honey until blended.
Beat in eggs and lemon rind and juice.
Stir together sesame seeds, flour, and baking powder. Add dry ingredients to wet.
Portion into muffin tins. Bake 350 degrees about 20 minutes, until tester comes out clean and top is browned.
Poke holes with a toothpick in the top. Combing remaining lemon juice and honey and pour over the top, letting it penetrate. Let cool 10 minutes and remove from pan.
---
I baked with honey a lot in the Bakery, in an effort to reduce total sugar. In the next recipe, the only sweetener comes from dried dates. I'll bet this one will become a favorite of yours too.
Date Nut Muffins
1 cup hot water
12 oz dried dates
1 1/2 cups water
1 Tbs melted butter
1 tsp vanilla extract
4 ounces walnuts
9 oz gluten-free flour
1 tsp baking soda
Pour 1 cup boiling water over the dates and let them soak. Cool and puree in food processor.
Blend more water, butter and vanilla and add to the dates.
Mix the dry ingredients together. Add wet mixture to it. Mix until blended.
Portion into muffin cups. Bake 350 degrees about minutes.
---
For the chocolate lovers, brownies are a must to be included in the holiday offerings. These brownies use raw sugar to balance the strong cocoa powder. This recipe has no flour, and the beans ensure moistness for days after, in case they last that long.
Black Bean Brownies
15 oz can of black beans, rinsed and drained
3 eggs
3 Tbs coconut oil or melted butter
1/4 cup rich cocoa powder
pinch of salt
1 tsp vanilla
3/4 cup raw sugar (or equivalent sweetener)
1/2 tsp baking powder
1/2 cup dark chocolate chips for topping
Preheat oven to 350 degrees.
Puree beans with liquids in a blender or food processor. Add dry ingredients and continue to blend smooth (reserving chips for topping.)
Pour into a greased 8 x 8 baking pan or portion into muffin cups.
Sprinkle chocolate chips evenly on top.
Bake about 30 minutes until the top is dry and the edges begin to pull away, less for individual cups.
---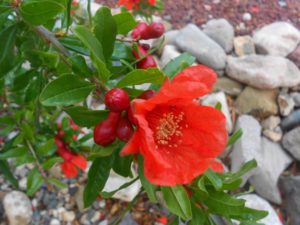 The pomegranate tree in my yard has produced a bumper crop this year. I am opening them and then processing the fruit into juice and using that in sauces.
In a cookbook about using the "Fruits of the Desert" I found this simple way to make pomegranate pudding and adapted it.
Pomegranate Pudding
2 cups pomegranate juice (either bottled or process and strain fruit)
3 Tbs honey or 1/4 cup sugar
3 Tbs cup cornstarch
1/4 tsp salt
small cinnamon stick
Bring all to a boil. Cook over moderate heat, stirring until thickened. Remove the cinnamon stick.
Pour into dishes. Cover and chill. Serves 4.
What are your holiday favorites this year? Please comment below.
---
WANT TO USE THIS ARTICLE IN YOUR NEWSLETTER OR WEB SITE?
You can, as long as you include this complete blurb with it: "Naturopathic Physician Dr. Cheryl Kasdorf is a doctor who listens and has answers with a natural approach that works. She is known as the go-to person to get back your get-up-and-go when it is gone, gone, gone. Get your FREE gift "Dr. Kasdorf's Health Secrets for Feeling & Looking Great" at drcherylkasdorf.com
---